As big data starts boosting AI growth, here are some recommended guidelines for India
Written by Sharmila Nair
|
Updated: July 22, 2018 6:40:32 pm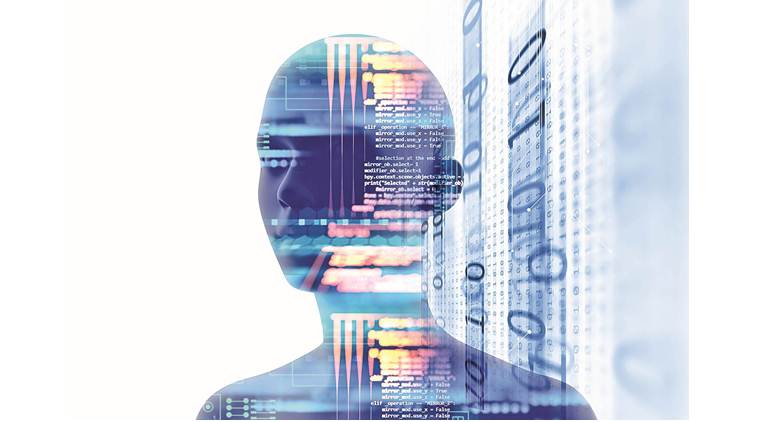 Currently, the government has not specified any guidelines to regulate itself or corporates, both Indian or foreign, regarding collection of big data and subsequent AI projects. (File Photo)
Big data fuels Artificial Intelligence (AI) innovations. With the varying degrees of privacy norms of each country, there is a significant impact on the amount of big data collected and utilised by private and public entities with regard to AI innovations. In China, low safeguards on personal data has resulted in an increase in AI innovations. Whereas in Europe, with the enforcement of the GDPR, there are increased privacy and security guidelines resulting in a negative impact on the growth of the AI sector.
While acknowledging the need to intensify AI actions, India requires tailored guidelines which is a blend of international principles along with existing local privacy standards to achieve to an effective and responsible AI ecosystem. The curated blend of AI strategies is mandatory as India is currently investing in AI for its defence, legal and financial sectors. For instance, one of the big data principles stated by the UN Global Pulse in its 2018 report is 'purpose specification' i.e., providing the purpose for which the data is being collected, prior to collection. However, Justice Srikrishna Committee deviated from the concept of 'purpose specification' and stated that secondary uses of big data may arise post the collection of data by the organisation. Hence, mandatory requirements on Indian entities to specify the exact purpose of the data collected is difficult.
Also Read: Why we need to have regulation and legislation on AI and quick
Currently, the government has not specified any guidelines to regulate itself or corporates, both Indian or foreign, regarding collection of big data and subsequent AI projects. In its AI principles, Google specified that it would be accountable to people, however, if people are unaware of the methods of data use in AI projects, the foundation of accountability itself is eroded. It is essential for private and public entities to create an AI code of conduct and the following guidelines attempt to provide tailored big data guidelines for a developing Indian AI ecosystem:
Explainability
Embedding tools for AI explainability into AI platforms such as the 'Generating Visual Explanations' tool from UC Berkeley and Max Planck Institute for Informatics, Germany explains the rationale for a decision to the end-user. This is crucial for AI being deployed in specific sectors such as medical, legal, finance and even the defence. Similar embedded tools may, in specific cases, provide private or public entities, with the ability to avoid taking constant consents, for secondary uses of big data (with exceptions such as for sensitive personal data), subject to confirmation from a Data Quality Controller. Data Quality Controllers must be engaged at national and corporate levels for enforcing pre-defined data quality parameters. Additionally, explainability is a necessity for autonomous intelligent systems rather than for task-specific 'narrow AI' which may involve a human in the loop.
Varying Levels of Automation
While efforts are being made for complete autonomous AI across sectors and countries, certain exceptions must be made in order to ensure accountability. Explainability (mentioned above) may not hold good, if justification is found after any foreseeable or direct negative impact on human life. Lower levels of automation will lead to greater human control in such sectors, leading to greater moral accountability. As India is growing in the AI space, it is critical that the level of automation awarded to a particular sector be revised based on tested research and evidence.
Quality of Big Data and Risk Assessment
The quantity and quality of a data set collected must NOT be determined by a pre-defined goal of the AI project. A basic necessity for any AI project, is ensuring the collection of a large, error-free and bias-free data set. In this regard, the concept of 'data minimisation' propounded by international agencies, ensuring that the data collected is limited to the minimum necessary, is not advisable especially when big data is defined by the 3 V's: Volume, Variety and Velocity. Second, the Data Quality Controllers must ensure that the data collected, for any AI project, is wide and impartial. Third, the quality parameters and guidelines may vary, per project per sector, but it is imperative to conduct a risk assessment for use of big data in AI projects. Failure to conduct risk-assessment tests prior to the launch of an AI project, may cause multiple breaches of personal data.
Benefits to People
According to a report by McKinsey Global Institute, successful AI adoption may give the Chinese economy a productivity boost that may add 0.8 to 1.4 per cent points to its GDP growth annually. China's quick growth in the AI space, with a total 4040 AI-startups currently, is attributable to the amount of data available domestically which people are willing to surrender for greater innovations. While India's data privacy rules vary from China's, if people are provided benefits for granting permission of secondary uses of data to entities, the data pool may increase for AI innovations. This can be done through data banks or simply a study on the willingness of people to share data (i.e., not sensitive data) in exchange for benefits or rewards. A study conducted by GfK Global shows the percentage of people in various countries including China, Russia and the Netherlands willing to trade data for benefits. An India-centric study may provide the Government with additional information about the willingness of people to lower privacy rules for higher innovations or vice-versa.
Read more: Huawei now wants developers to exploit its artificial intelligence capabilities
The above guidelines are suggested methods to regulate the big data-led AI space, by public and private entities, which is crucial for India's economic growth. The aim is to redefine and simplify the benefits of the AI space for the people so as to collect data and innovate without compromising on privacy and ethics.
For all the latest Technology News, download Indian Express App
© IE Online Media Services Pvt Ltd